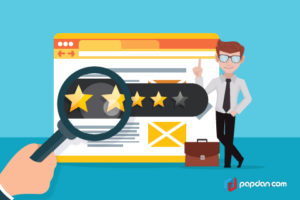 The main purpose of SEO service is to optimize any strategy to boost your website rank in the search results. One of the strategies that you can rely on is to show your "human" side of your business. This strategy will make your business seems more relatable and real. But, how can you show your human side through SEO? The answer is simply by collecting and displaying reviews. In fact, positive and negative reviews are used as a ranking factor. Negative reviews cause bad rank to your site while positive reviews will elevate your rank.
How Do I Take Advantage of Online Reviews and Improve my SEO?
Nowadays, customers wish to get better "transparency" from sellers. Transparency as a business means to open up to criticism and feedback. In detail, the action includes as:
Allowing employees to talk about your products and services publicly such as through an employee advocacy program.
Establishing 1-to-1 communication channel
Asking for feedback
Not hiding from criticism
Addressing criticism publicly
There will be some reviews that may destroy your reputation. Although, you can remove all the bad reviews but it is not a wise move. The best way is to turn the negative reviews to positive reviews through better customer service experience. Here are 7 tips that you can use to uplift your online reputation management:
Monitor Your Reviews
Apply social keywords when responding to social media messages directed at your brand. Set a Google Alert to notify you of any news posted about your brand. Therefore, by monitoring people's reviews, you know what people really want and you can improve your product better.
Friendly and Quick Respond
Read your reviews daily. If you have more time, you can login to view and respond to social media messages multiple times a day. Make these daily routines as your habit, just like checking your email. In short, try to respond any reviews in less than 24 hours.
Have Personality
You can learn from many famous online businesses. Amazon is a good example. It always comes with a positive attitude and a willingness to help. Besides, it opens up a conversation in a witty style no matter what you have to say.
Think of SEO as your Digital Business Card
As it is stated above, good SEO strategies will help you boost your business. It works better than any business cards or flyers. In fact, business directory and profile sites help you accurately list your company online and monitor your reviews. Here are lists of business profile sites, that you can get started:
Amazon
Angie's List
Better Business Bureau (BBB)
Bing Places
Citysearch
Consumer Reports
Demand Force (newer review site)
Dex Knows
com
com
Google+ Local/Google Places
Home Advisor
Insider Pages
Judy's Book
MerchantCircle
Trip Advisor
Yahoo! Local
Yellow Pages
Yelp!
To gain and monitor your reviews, you can list your business on these sites.
Pay Attention to Reviews on Social Media
Remember that social media profiles are also part of digital reputation management. Therefore, sites like LinkedIn, Google+ and Facebook are best for business as it has important information and people can post their reviews in these social media.