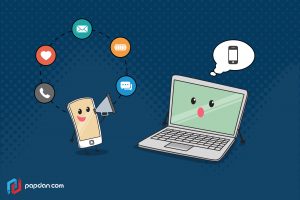 The number of mobile internet users has exceeded the number of desktop-only users, no wonder many businesses want to make their business becomes more mobile. If you are an apps developer or a web designer, you should understand that mobile users characteristic are likely short attention spans. Therefore, it is important to create business app that meets this characteristic. In this article, we present several tricks that can be used to make your apps fit the short attention spans, such as follow:
SPEED THINGS UP
Nowadays, having a lightning fast app is a must thing to have, since a research of the Jampp study reveals that people spend less than an average of 60 seconds on mobile apps. In fact, a three seconds delay in website load time will result in 40 percent of users abandoning your website. The very first step is to make your website and app lightning fast. Make it easy for people to take the most basic action in your app, or on your website, in less than 60 seconds.
The most common mistake that many app developers do is to create app with lots of unnecessary features in the hopes that users will find it interesting while the fact is every web developers should avoid making complicated apps and focusing on performing the most basic tasks in your apps in seconds.
If waiting is avoidable, you can use bar of indication of progress to give your users sense of certainty. This trick has been successfully proven and it is used by many major sites. This is how you change everything. In fact, this method is so effective that 75% of people prefer to have one.
AVOID LOADING SPINNERS AS MUCH AS YOU CAN
Opposite from completeness meters, loading spinners will provide you with bad user experience instead of bringing good impact. No matter how fast your app or website is, it won't make much of a difference if people perceive it to be slow. Loading spinners doesn't give users an exact indication of how much progress they've made and how long they have to wait, therefore it is not preferable to be used as a time indicator.
TAKE ADVANTAGE OF BACKGROUND LOADING
Instagram is the best example of making actions appear seamless to users. When a user attempts to upload an image that should generally take 30 seconds to load, Instagram makes it appears as if the image loads instantly. This is because while a user is still captioning the image, adding title and tags, Instagram is slowly uploading the image in the background which causes the image is posted automatically, by the time the user actually clicks "share". This process has made Instagram populary known as a very fast app.
 USE LAZY LOADING
It goes without saying that mostly people will only use half of the functions; therefore, loading each and every function will cause slower user experience. But don't worry, as you can use lazy loading to help you delay the loading of certain objects until they are needed; for example, on a website that heavily uses images, it is expected that the images will contribute to a delay in site load times.
Moreover, with lazy loading, you can postpone the loading until users scroll to where the images are which actually save users a lot of initial load time that result in creating a perception that your site is much faster than it really is.