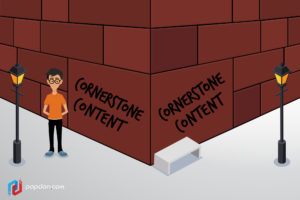 Cornerstone is articles that can reflect your business, communicate your mission and are extremely well written. This is why cornerstone is also known as the most proud articles that you have. These are the articles you would like to rank high in the search engines. If you are an SEO analysist who likes to provide better content as part of your SEO service, this article is for you.
Which Articles are my cornerstones?
So what criteria do cornerstones article should have? First, consider four or five pages that someone would like to see when they visit your site for the first time. You should write cornerstone articles about the keywords you definitely want to rank for.
Creating more cornerstone articles will build a solid internal linking structure. Therefore, it is better to give a prior attention in making cornerstone content.
Why are Cornerstone Articles Important for SEO?
As we know that having a well written content will bring good effect on your SEO. This is why cornerstone content plays a significant role in any SEO strategy. It can be rather hard to rank for search terms that are very popular. In the other words, you give highlight on important articles for Google to see by providing the proper internal linking structure between your posts.
Ideally, cornerstone article's link should appear on your homepage's site. Then, link all your other posts about similar topics to that particular article. Link your original cornerstone article from every single one of those blog posts. By this way you can increase the chance of your cornerstone content article ranking in Google.
Below are 5 steps that can help you make a killer cornerstone content:
Step 1: Think about your keywords
After determining the essential keywords you want to rank for, be sure to carry out keyword research. Remember that your cornerstone articles should be optimized for the 'head' or most competitive keywords.
Step 2: Choose the Best Post
Discover the posts that are optimized with most important keywords. Choose some posts, and then make it as your cornerstone.
Step 3: Rewrite it
Rewrite your article, and then make sure that it is SEO friendly. Don't forget to always keep your content up to date. Therefore, you should rewrite and expand that article regularly.
Step 4: Optimize your Other Posts on Long Tail Variants
Optimized blog posts about similar topics as your cornerstone article on long tail variants of the 'head' keyword you're attacking in your cornerstone article.
Step 5: Linking from Those Tails to Your Head
Make Google see that your new cornerstone article is the most important one on your site. Remember to link from all the long tail articles to your cornerstone article.